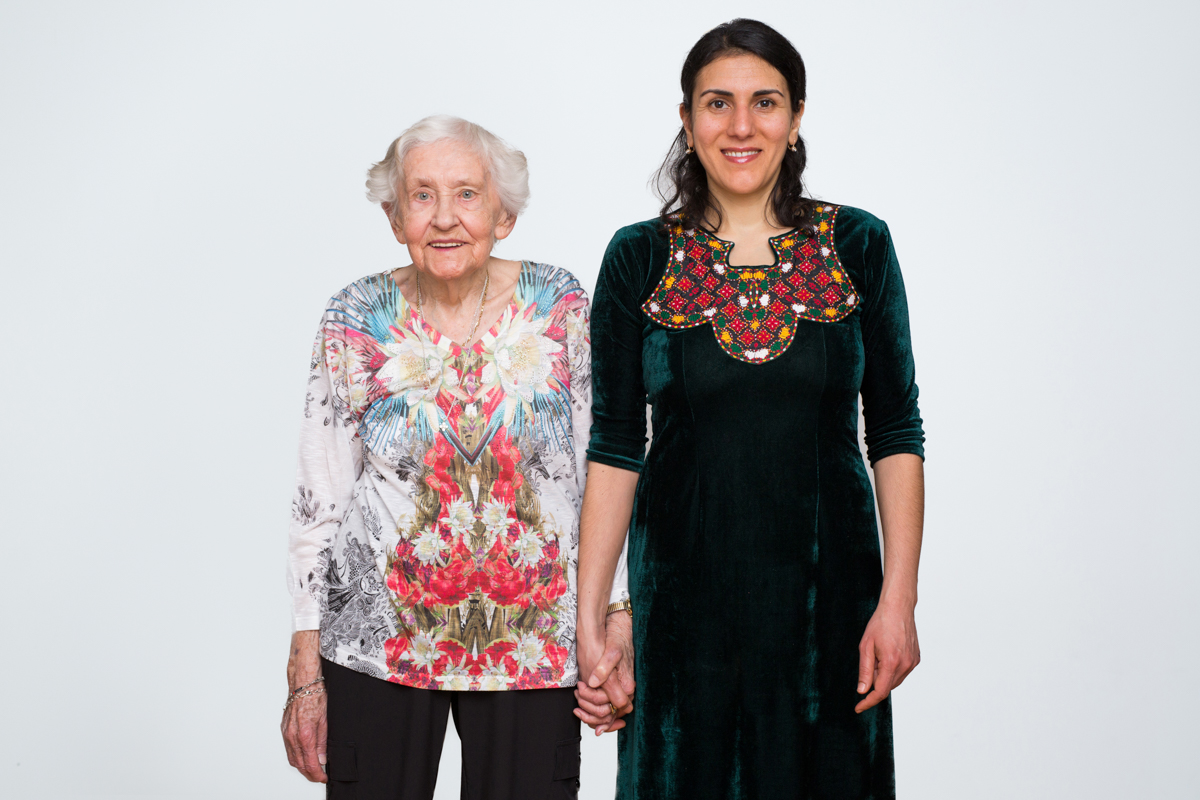 Gertrud Wunder was born in East Prussia, Germany. She arrived in the U.S. in 1952.
Meryembibi Mammedova was born in Turkmenistan. She arrived in the U.S. in 2005.
Both come from countries that are part of the former U.S.S.R.
Gertrud moved to the U.S. with her husband and five-year-old daughter for more opportunities. There was not a lot of work in war-torn Germany where they were living. They were sponsored by relatives living in New York City.
Meryembibi met her husband while he was serving in the Peace Corps in Turkmenistan. Soon after they were married, they moved to the U.S.
Gertrud: "My aunt and uncle picked us up from the boat. The next morning, we went out for a walk around the neighborhood and I have to mention this. I saw in the garbage cans these big loaves of bread, not even used, not open, nothing. And we had hunger big you know, we were starving over there at times. When we came home, I said to my aunt, 'What is this, all those loaves of bread in the garbage can?' 'Yes, they only eat very fresh bread. This is too old. That's why they put it in a garbage can.' I never could get over that."
Meryembibi: "The first year was rough because I came here from a country where it's all about family and we gather a lot. I didn't spend a day without the family. And when I came here I only had my husband and then my parents-in-law. But they live in a different neighborhood and we would see them but it wasn't something I was used to. So, for me it was a shock."
Annie O'Neill/TDW 2017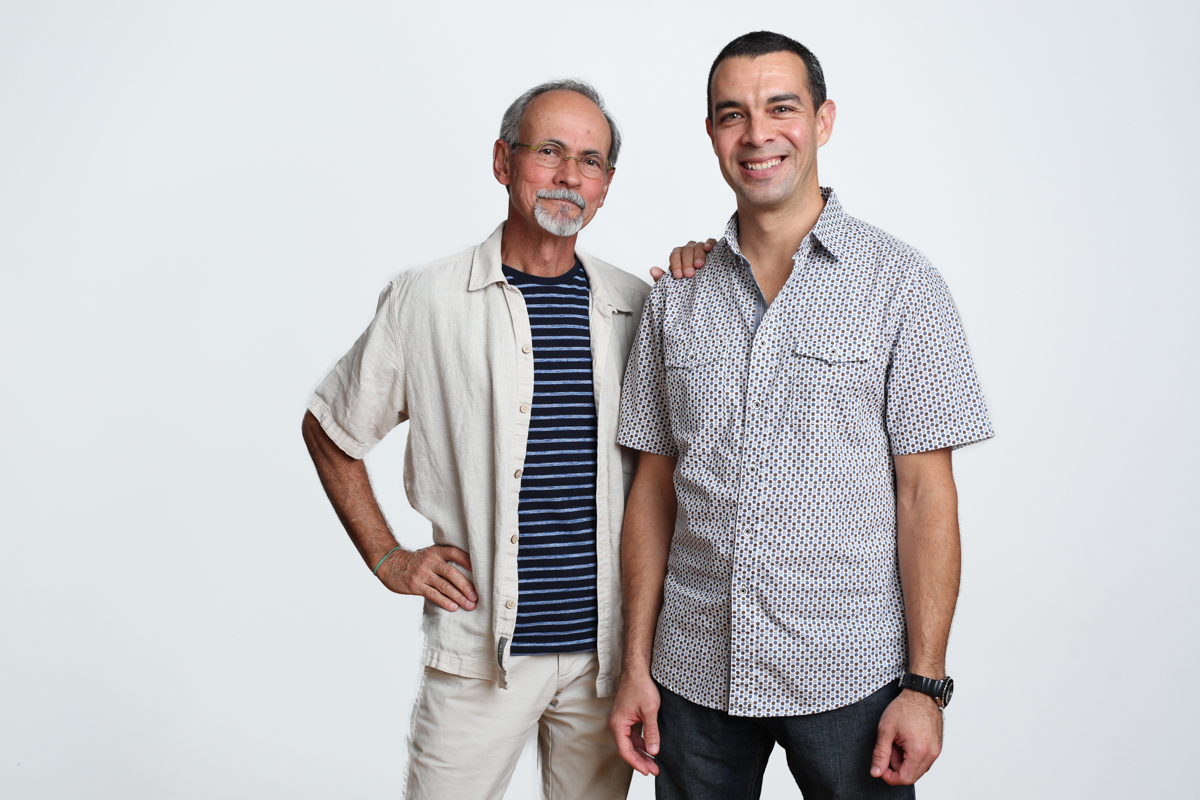 Dan Boyarski was born in the Philippines. He arrived in the U.S. in 1964.
Sergio Flores was born in Venezuela. He arrived in the U.S. in 1999.
Both came to the U.S. for higher education.
Dan was born to an American father who was stationed in the Philipppines during WWII. His mother was Filipino-Spanish. He moved to the U.S. for college at the insistence of his father when he was seventeen years old and studied graphic design in Minnesota. He automatically became a U.S. citizen when he was twenty-one. He started teaching in graduate school, realized he loved it and made it his career. He recently retired as the head of the School of Design at Carnegie Mellon University, where he taught for thirty-five years.
Sergio came to Pittsburgh in 1998 to visit a friend studying at Duquesne University School of Music. Coincidentally, they were holding open auditions for entry into the school. Sergio happened to bring his violin, tried out and was given a full scholarship. He returned in the fall of 1999. He is currently working on completing his third advanced degree.
Dan: "We hung around with a few American friends but we also had Spanish friends, German, French and Filipino friends, and Chinese friends... I remember coming here in '64 and the civil-rights issues were rampant. You know, I mean demonstrations... killing of blacks and all that. I thought. 'Why the hell is it so hard to get along with black people? We get along with all these different cultures in the Philippines...' It made me feel like I'm not from here. I don't understand this mindset."
Sergio: "I never wanted to get rid of my accent... I think if anything it makes me special because I'm a different person. That's what sets me apart from everyone else."
© Annie O'Neill/TDW 2017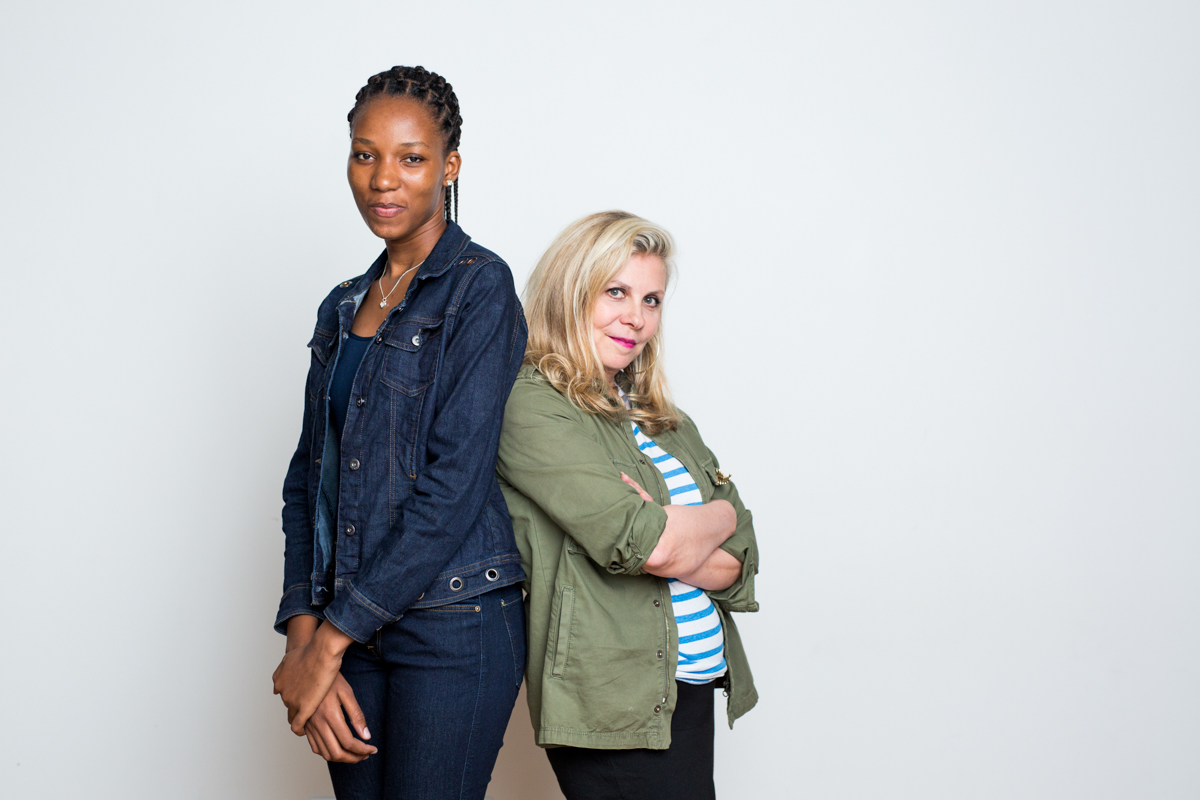 Cecile Desandre was born in France. She arrived in the U.S. in 1995.
Lorraine Digbeu was born in Côte d'Ivoire. She arrived in the U.S. in 2016.
Both speak French.
Cecile met her husband while living in Prague, Czech Republic. They were dating when he was offered a job in Pittsburgh. So, she says, "...as a good Latin woman I followed him." They live in Pittsburgh with their two daughters.
Lorraine moved to the U.S. to escape conflict in her home country. She settled in Pittsburgh with her mother and brother. She attends a local high school and has plans to attend college. She wants to be an attorney.
Lorraine: "We share love together no matter our culture."
Cecile: "I think people stick together and they don't accept so much other cultures or if they do it's reluctantly. Some will certainly do more than others. I think generations are changing [though]."
© Annie O'Neill/TDW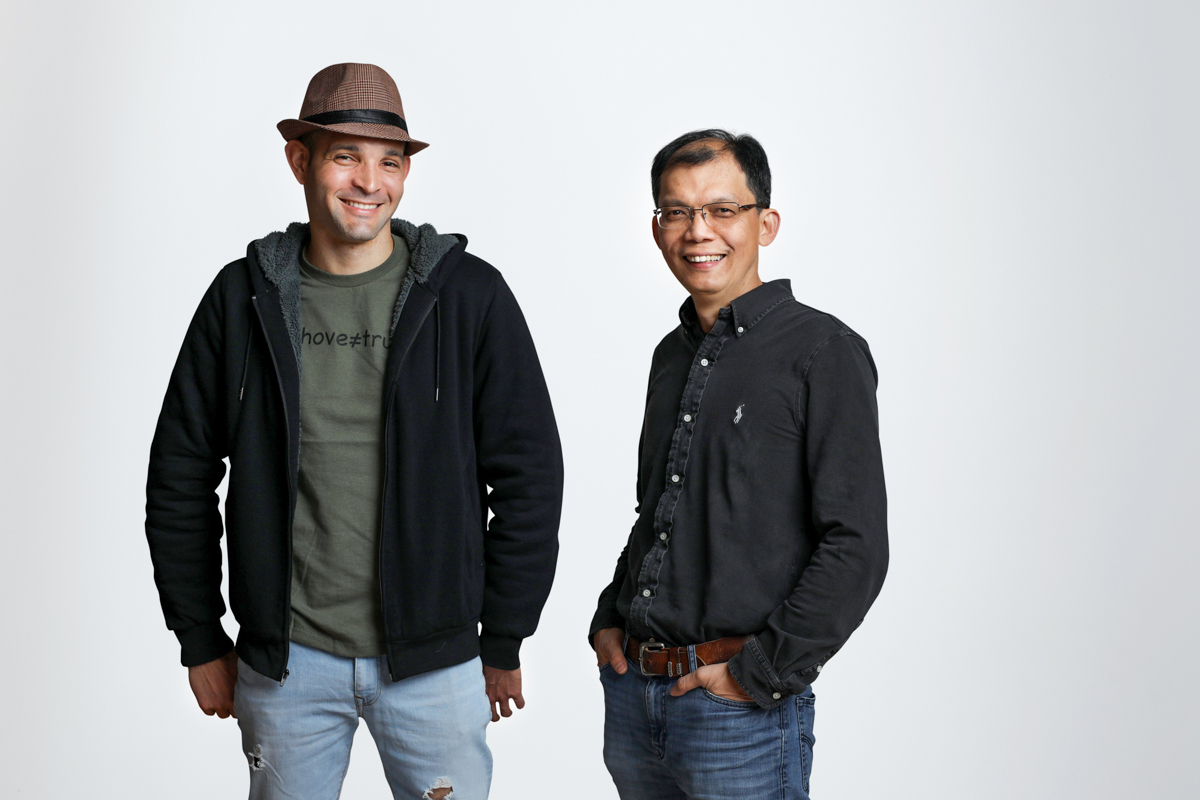 Lake Chau Fong was born in Hong Kong.
He moved to the U.S. in 1994.
Santiago Frontado was born in Venezuela.
He moved to the U.S. in 2017.
Both are journalists.
Lake was a photo-journalist working in Taiwan before coming to the to the U.S. to get his master's degree in visual communication from Ohio University. He finished his degree in 1996. This was one year before China was supposed to take control of Hong Kong. Lake's father gave him permission to stay in the U.S to see how the transition played out. He decided to stay in Pittsburgh to work at the Post-Gazette. He married his college sweetheart, Mandi, and had two sons.
Santiago came to the U.S. to move away from the political and financial woes of his home country. He studied journalism and wanted to pursue it as a career. But with the country seemingly headed towards a dictatorship the conditions for journalists have faltered and the financial situation is dire. He is hoping to get a permit to allow him to stay and work in the U.S.
Lake: "Home is here. Home is here but family's there..."
Santiago: "The main reason why I came is because of the current situation we are living in in my country... Everything is getting too expensive and inflation is getting higher every single day. For example, one salary per month in Venezuela can be mean $2. Can you imagine how to live your life on $2 per month?"
© Annie O'Neill/TDW 2017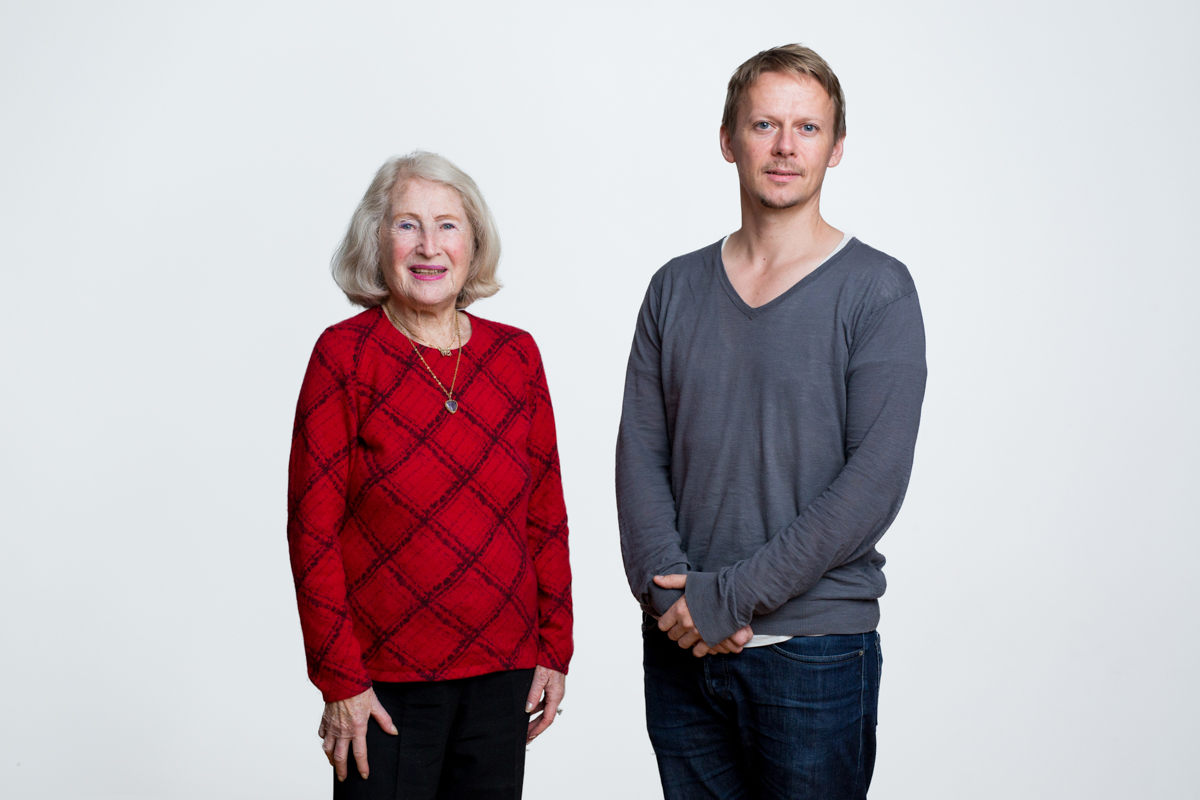 Solange Lebovitz was born in Paris, France. She arrived in the U.S. in 1952.
Anders Kloch Jeppesen arrived in the U.S. in 2012.
Both came to the U.S. for their spouse.
Solange was a Jewish child living in occupied France during WWII. She was born in Paris. When she was 12-years-old she lived with an elderly Catholic couple in Normandy. For her safety and theirs she attended Catholic mass every Sunday with them. Not many years after the war she met her husband who also survived the Holocaust. They moved to Pittsburgh after he served in the American Army in the Korean War.
Anders was a teacher in Denmark. He followed his wife to the United States when she was offered a job at the University of Pittsburgh. They were dating when she was short-listed for two teaching positions in two very different locations: St. Andrews, Scotland, and Pittsburgh. She made a deal that since she was the one taking them away from home he could be the one that decided the city/job to pursue. He said he picked Pittsburgh thinking she would never get that offer. She did get it. He felt it was important to keep his promise and they moved to the U.S. a month after they were married. They live in Pittsburgh their two children.
Solange: "Still in the United States with all its faults. You still have more equality I find – people fight for it. You have to fight for it. It's true… it's a nation of immigrants. Which before that in Europe you didn't have nations so much of immigrants… We constantly have to fight …racism. You do. And if like you say, you find that there should be more equality for people than if you live in the United States you do have to fight for it."
Anders: "I agree with you that everyone has to fight. I feel like for some people the fight is so much easier. They get a head start."
"As a parent but also as a former teacher. And that's where I think there's a big difference between let's just say Scandinavia…. The level of responsibility, accountability of the government to the citizens is so different from what I'm used to over here. I find it difficult to accept and understand how American citizens can just accept that the politicians are really not reacting to their needs but more to the needs of companies who have the ability to fund them. And it's not even a secret."
© Annie O'Neill/TDW 2017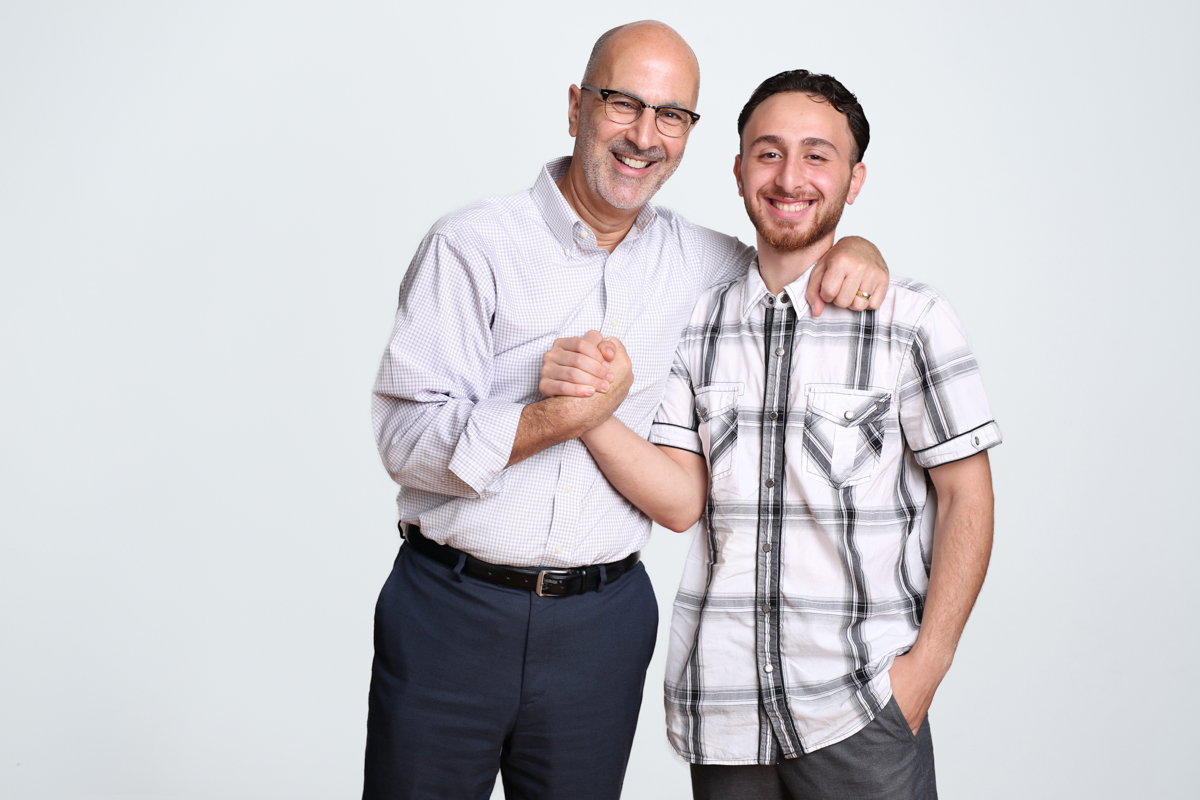 Saleem Ghubril was born in Beirut, Lebanon. He arrived in the U.S. in 1976.
Fayz Gnamh was born in Dubai, U.A.E. He arrived in the U.S. from Syria in 2016.
Both fled war-torn countries.
Saleem escaped the Lebanese Civil War with his family in 1976. He first went to Iowa where his sister was living. After moving to Pittsburgh, he started the Pittsburgh Project, a community development organization on the North Side.
Ghubril, also a Presbyterian minister, is currently the executive director of the Pittsburgh Promise. Fayz and his family spent years in a refugee camp in Jordan before coming to the U.S. He came to Pittsburgh through a nonprofit aid program Ansar of Pittsburgh. In less than a year since arriving Fayz has improved his English dramatically, learned how to drive, found a job, and bought a car. He is supporting his sisters and parents.
Saleem: "I find it remarkable that a country as big and wealthy and has so much land as the United States sets a goal of 50,000 immigrants here and is now looking at maybe 10,000 refugees. The little country that I come from, Lebanon, which is smaller than New Jersey today has 1,800,000 Syrian refugees plus 700,000 Palestinian refugees. So 2,500,000 refugees in a country of 4,000,000. So right now there are more refugees in Lebanon than there are Lebanese. I am proud of my country for doing that."
Fayz: "I want to fix the world... this is my thing. When I start, the first one my family, I fix what the problem [is] in my home, after that in my building, after that in my neighborhood... after that in my city, after that in my state... this is how."
© Annie O'Neill/TDW 2017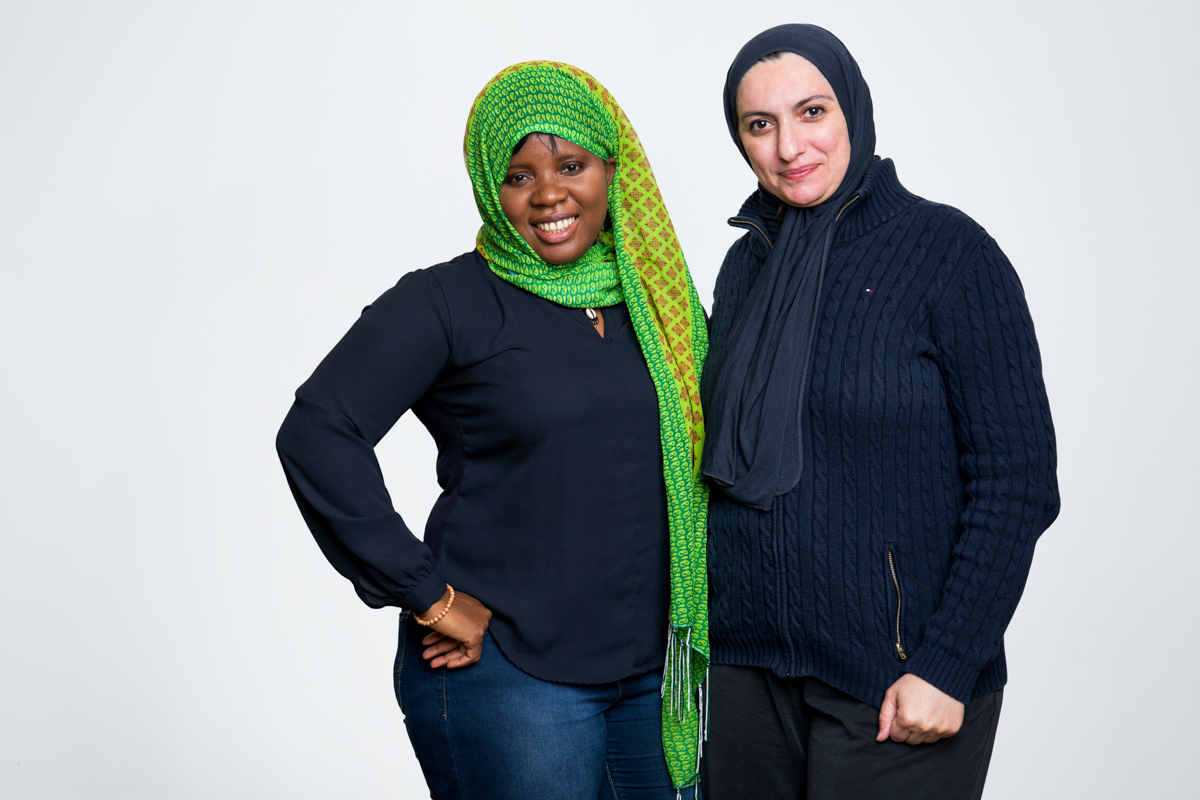 Mounia Alaoui-El-Azher was born in Morocco. She arrived in the U.S. in 2001.
Ame Koffi was born in Togo. She arrived in the U.S. in 2009.
Both are Muslim.
Mounia's first move out of her native Morocco was to Paris for post-graduate schooling. She moved to Florida for post-doctoral experience at the University of Florida. She is a cancer research scientist faculty member at the University of Pittsburgh. She lives in Pittsburgh with her husband and children.
Ame came here after working for the United Nations on a health mission in West Africa. She came to the U.S. after winning a green card lottery. She felt there were more work opportunities.
Mounia: "I have two kids and they're American now. So my future is here. And I am established
here, well established and I see myself just like my neighbor... And so the main thing is that we
all have the same goal and our goal is to work for the best for our country."
Ame: "We are not bad people. We contribute to the progress of this country and in America it is all about immigrants. Even Trump is an immigrant. So why hate on us? I don't get it."
© Annie O'Neill/TDW 2017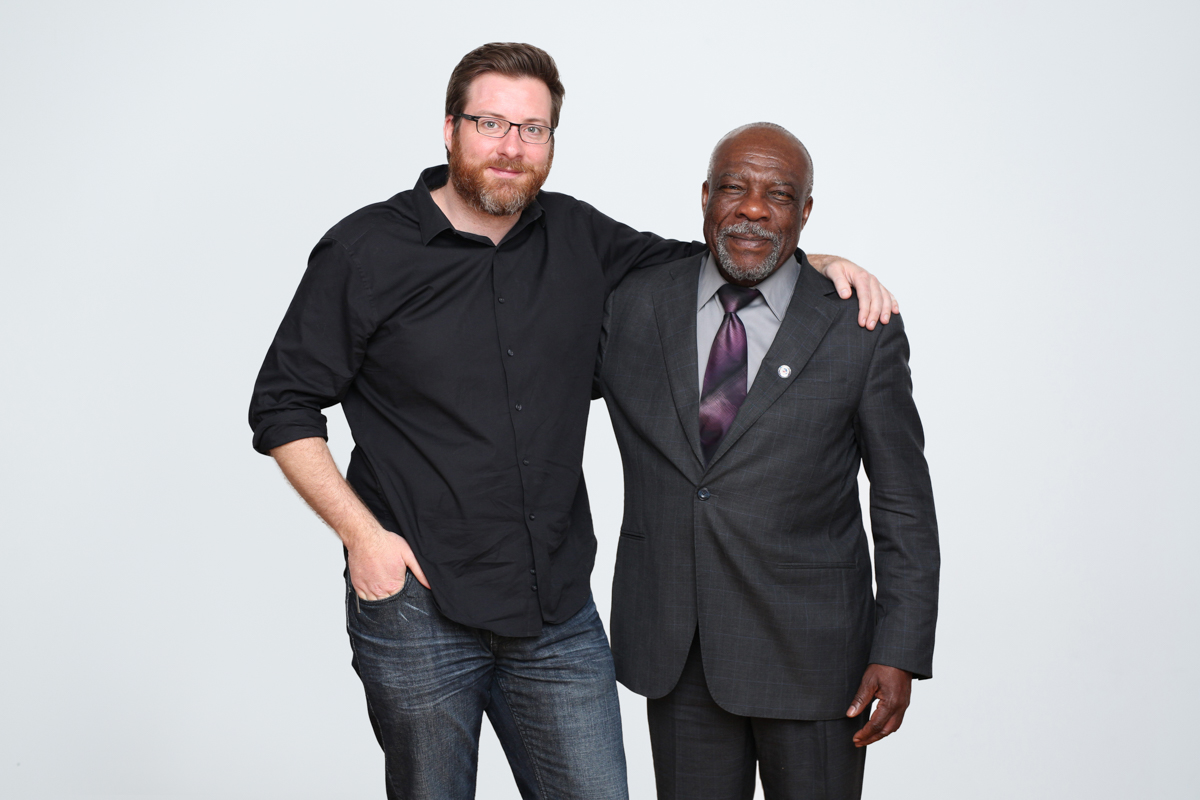 Frederick Douglas was born in Saint Kitts and Nevis. He arrived in the U.S. in 1977.
Michael Schilling was born in Australia. He arrived in the U.S. in 2008.
Both are engineers.
Frederick went to Lehigh University for graduate school. He then came to Pittsburgh to work for U.S. Steel as a research engineer. He currently has his own company with eighteen employees.
Michael was asked by an engineering director if he would consider relocating to America. Michael asked if the move could be to Europe instead. The director said again, "Do you want to move to America?" Michael says it all worked out for the best in the end. He feels there is a lot of support and networks in the U.S. by and for other immigrants that one would not get in other countries.
Frederick: "I think the reason why America is such a dynamic country is the mix of people. People come from all over the world. They bring their talents, their unique perspective on life. And it's this mix that is the renewing strength of America. And I think that this is what has made America great... because people come here with a passion to create, to make life better for themselves and in so doing the entire society is lifted up."
Michael: "The one reason that I would like to stay and very much contribute to the American society, is to is to make a bit of a difference and... contribute something, especially given that I have an engineering background. I would like to do something good. I would like to do something great actually.
"This place [America] allows it—even with the chaos and confusion—I don't think I could be doing what I am doing now anywhere else in the world."
© Annie O'Neill/TDW 2017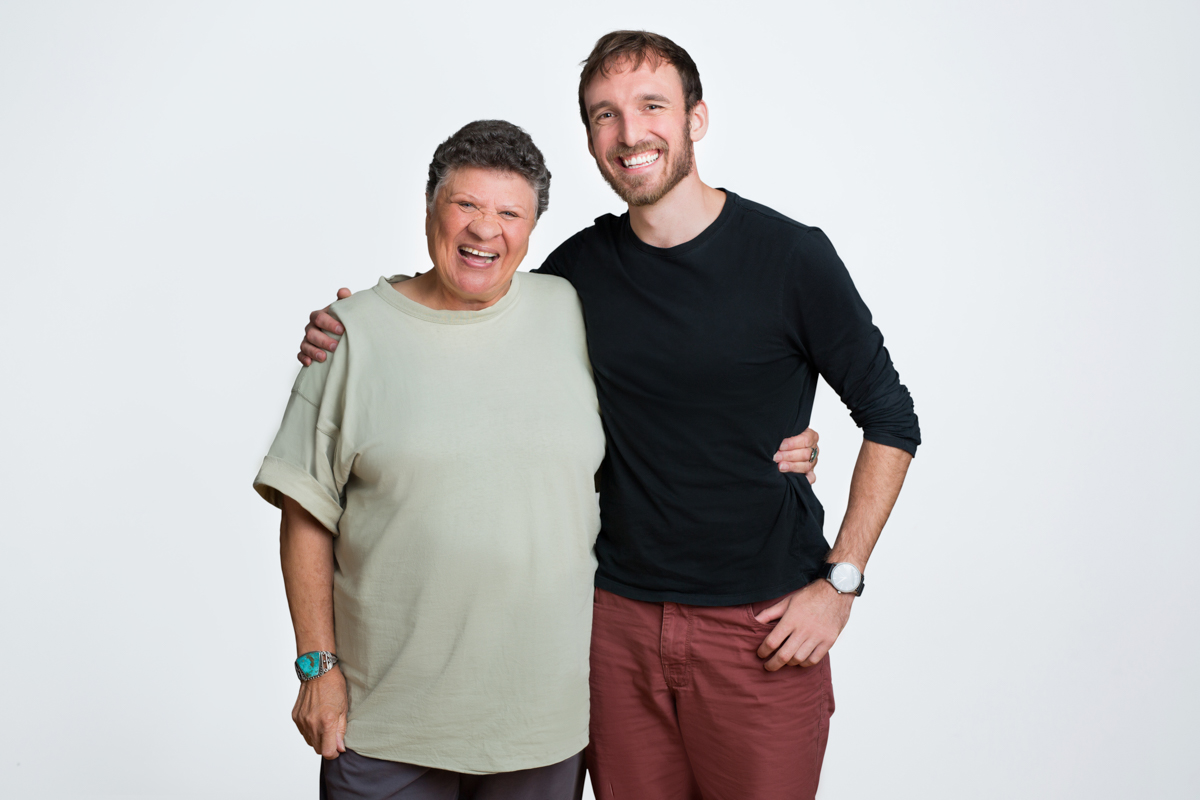 Marilyn Brooks arrived in the U.S. in 1942.
Jeff Douglas arrived in the U.S. in 2017.
Both were born in Canada.
Marilyn moved to the U.S. with her mother and sister, around 1942, when she was an infant. Both her parents were Native American. She grew up in Detroit and went on to study journalism in an accelerated program at Columbia University in 1969. She was a successful television reporter for over thirty-five years.
Jeff came to the U.S. in 2016 to work as an intern at Pittsburgh Veterinary Specialty and Emergency Center in the city's North Hills. He was asked to come back to work full time after he completed his studies back in Canada. He enthusiastically adds that since Pittsburgh is home to one of his favorite hockey players, Sidney Crosby, it influenced his decision to first try the city as an intern and then to return.
Marilyn: "There were times when I wanted to go back to Canada. Because I felt I would be safer there. Somehow years go by and things happen. You know I worked, got married, and had a child."
Jeff: "I think there's a different kind of patriotism in Canada. You are Canadian first before your gender or your race or your age or anything like that. We are all Canadians first. So, we kind of have this... bond working together. I mean I've only been here five months but it seems like there are some larger dividing lines here that need to be overcome."
© Annie O'Neill/TDW 2017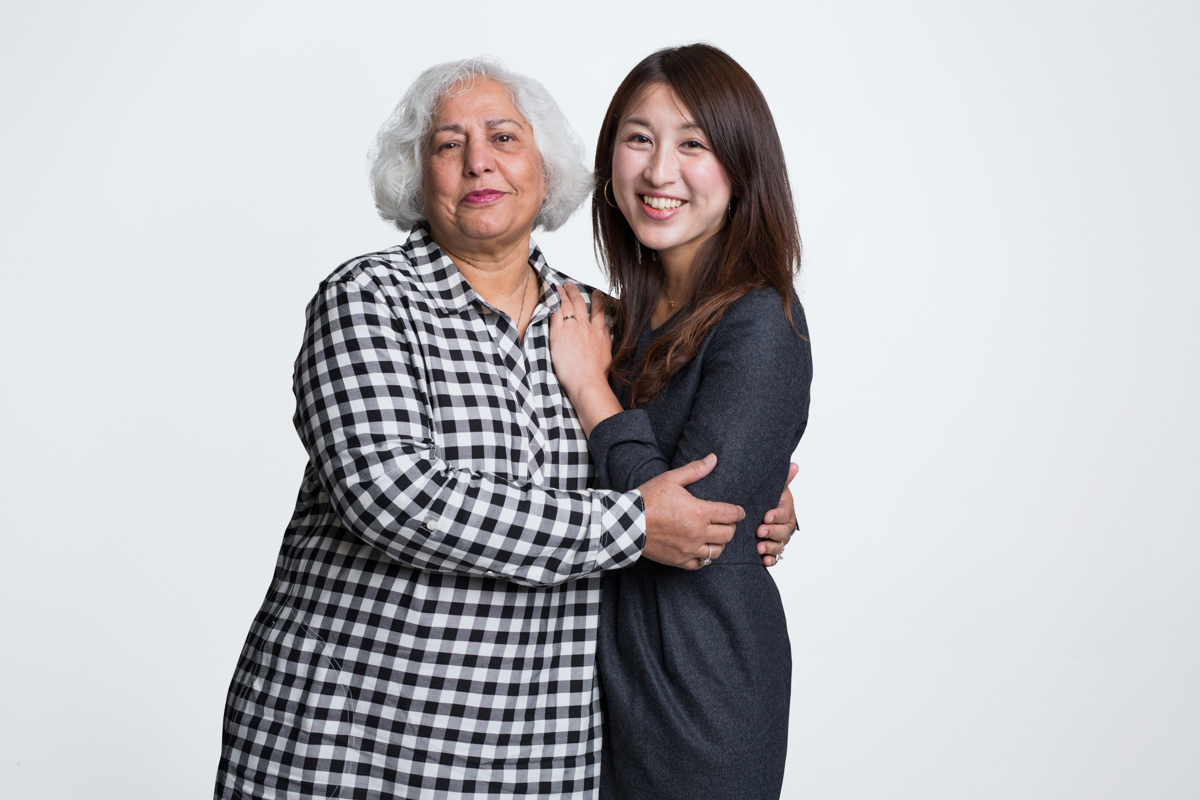 Iffat Idrees was born in Pakistan. She arrived in the U.S. in 1974.
Fumiko Tezuka was born in Japan. She arrived in the U.S. in 2017.
Both came to the U.S. for their spouses.
Iffat's husband, a U.S.-educated physician, also from Pakistan, visited home to find a wife. Iffat's parents arranged their marriage. She first spoke with her husband on their wedding day. They moved back to the U.S. after their wedding. Iffat had to adjust to living in an apartment with no family around.
Fumiko came to the U.S. from Tokyo with her husband who is in a two-year program at Carnegie Mellon University. She left her job as a teacher, as well as her family and community, to move to Pittsburgh during his studies.
Iffat: "Then, back home, everybody's marriage was being arranged that way. So you grew up with that idea that is going to happen to you and you kind of accepted. The lady next door heard me [crying] and she came over and she knocked on the door and she was like, 'Honey what's wrong?' And I'm like, 'I'm just lonely. I don't know what to do.'
So she kind of became my mother. And she taught me everything. I had never cleaned the house because we have servants back there who do everything for you. I had never cooked in my life. And so I never had done any grocery shopping in my life. And then you learn. Then eventually I learned to drive. Got my license. And then there was no stopping me."
Fumiko: "So for me the first week was really, really tough. Like here I was alone at home and I had no friends. And even shopping and taking a bus is an adventure to me because of my language... I was working in Japan but I quit my job. So I lost my community suddenly and my husband was busy in study and he has a community and a classroom and parties he enjoyed while I'm alone and it was really tough."
© Annie O'Neill/TDW 2017